Lp mono: Columbia SX 6258
Lp stereo: Columbia SCX 6258

Recorded at EMI Abbey Road Studios
Producered by Norman Smith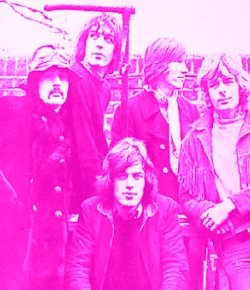 Nick Mason,Syd Barrett,David Gilmour,Roger Waters,Rick Wright
Set The Controls For The Heart Of The Sun
(music/lyrics Roger Waters)
Little by little the night turns around
Counting the leaves which tremble at dawn
Lotus's lean on each other in union
Over the hills where a swallow is resting
Set the controls for the heart of the sun
Over the mountain watching the watcher
Breaking the darkness waking the grapewine
One inch of love is one inch of shadow
Love is the shadow that ripens the wine
Set the controls for the heart of the sun
The heart of the sun...
Witness the man who arrives at the wall
Making the shape of his question to heaven
Whether the sun will fall in the evening
Will he remember the lesson of giving?
Set the controls for the heart of the sun
The heart of the sun...
1. Let There Be More Light
2. Remember A Day
3. Set The Controls For The
Heart Of The Sun
4. Corporal Clegg
5. A Saucerful Of Secrets
6. See - Saw
7. Jugband Blues
related internet links

who wrote'em, who sang'em

a piece of film featuring

Pink Floyd on a French

television programme

performing the said song.

the quality isn't good but

it's an interesting visual

document

a mass of single tracks, other versions

of familiar material and recordings of

early Pink Floyd concept events.
Saucer Notes

Let There Be More Light : written by Roger Waters. The lyrics were supposedly based on a member of an organized crime unit in London

Set The Controls For The Heart Of The Sun:

written by Roger Waters. features guitar work by both David Gilmour and Syd Barrett. In the book

Pink Floyd - through the eyes of...

by Bruno McDonald, Roger Waters admits to "borrowing" the lyrics from a book of Chinese poetry from the

Tang Dynasty

period (which has later been identified as the book

Poems of the late T'ang

, translated by A.C. Graham). Some of the poetry came from

Li He

, whose poem

Don't go out the door

contains the line "witness the man who raged at the wall as he wrote his question to heaven", and

Li Shangyin

, whose poetry contained the lines, "watch little by little the night turn around", "countless the twigs which tremble in dawn," and, "one inch of love is an inch of ashes." The song is supposedly about a suicidal spaceship pilot, who wants to die by flying into the sun and burning to death

Corporal Clegg: written by Roger Waters and features both Syd Barrett and David Gilmour on guitar

the song notes are adapted from the Wikipedia entries on the individual songs