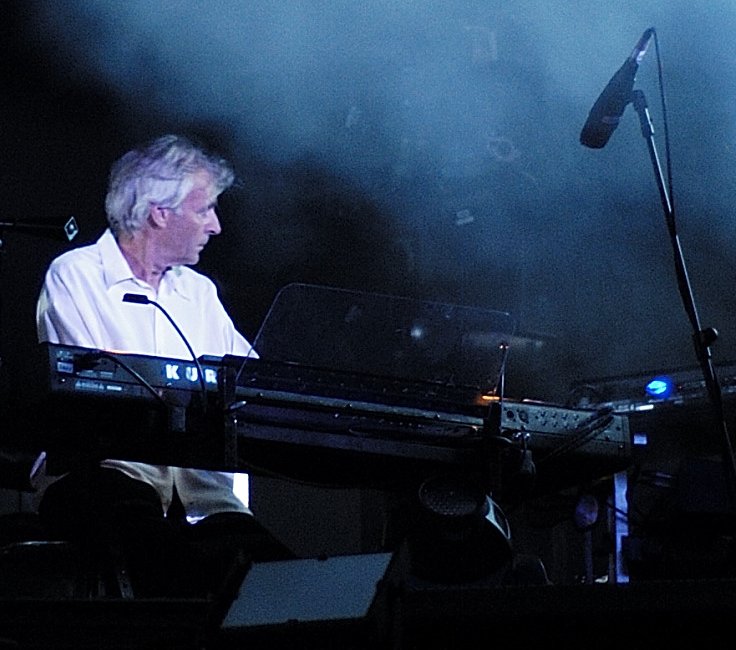 Richard William Wright (28 July 1943 - 15 September 2008) was a self-taught keyboardist best known for his long career with Pink Floyd. Wright's richly textured keyboard layers were a vital ingredient and a distinctive characteristic of Pink Floyd's sound. In addition, Wright frequently sang background and occasionally lead vocals onstage and in the studio with Pink Floyd (most notably on the songs Time, Echoes, and on the Syd Barrett composition Astronomy Domine).
Though not as prolific a songwriter as his bandmates Syd Barrett, Roger Waters and David Gilmour, he wrote significant parts of the music for classic albums such as Meddle, Dark Side of the Moon and Wish You Were Here, as well as for Pink Floyd's final studio album The Division Bell.
Wright contributed keyboards and background vocals to David Gilmour's most recent solo album, On an Island, and performed with Gilmour's touring band for over two dozen shows in Europe and North America in 2006 . On stage with Gilmour he performed piano, electric piano and synth leads with his Kurzweil K2600 workstation, Hammond organ and even his long-inactive Farfisa organ, which was resurrected especially for performing Echoes and a couple of Pink Floyd's and Syd Barrett's older numbers that Gilmour chose to revisit in his recent concerts. He also provided backing vocals and lead vocals (notably on Echoes, Time, Comfortably Numb, Wearing the Inside Out, Astronomy Domine and Arnold Layne - the latter released as a live single). He declined an offer to join Roger Waters and Nick Mason on Waters' The Dark Side of the Moon Live tour in order to spend more time working on an upcoming solo project (which may be an instrumental album, ostensibly to be released in 2008).
Wright died of an undisclosed form of cancer in his home in Britain on 15 September 2008. He was 65 years old. At the time of his death, he had been working on a new solo album, which was thought to comprise a series of instrumental pieces.
Bandmate David Gilmour said: "In my view, all the greatest Pink Floyd moments are the ones where he is in full flow. No-one can replace Richard Wright - he was my musical partner and my friend." He added: "In the welter of arguments about who or what was Pink Floyd, Rick's enormous input was frequently forgotten. He was gentle, unassuming and private but his soulful voice and playing were vital, magical components of our most recognised Pink Floyd sound. Like Rick, I don't find it easy to express my feelings in words, but I loved him and will miss him enormously. I have never played with anyone quite like him."
"The family have asked that their privacy is respected at this difficult time." .
Set The Controls For The Heart Of The Sun - Pink Floyd
Live At Pompeii (1972)
Equipment used by Rick Wright
In the early days of the band, Wright dabbled with brass before settling on the
Farfisa
organ as his main instrument onstage (in addition to piano and
Hammond Organ
in the studio). For a brief period in 1969, Wright played
vibraphone
on several of the band's songs and in some live shows, and he even played trombone on "Biding My Time" (also dating from this experimental period). During the formative years of Pink Floyd with Syd Barrett, Wright relied heavily on his Farfisa organ, fed through a
Binson Echorec
platter echo
, to achieve distinctive sounds that helped the band gain their "psychedelic rock" edge. He started using a Hammond organ regularly onstage thereafter, and a grand piano later became part of his usual live concert setup when "Echoes" was added to Pink Floyd's regular set-list. For tours in the 1970s centering around
The Dark Side of the Moon
,
Wish You Were Here
,
Animals
and
The Wall
, the Farfisa was dropped (although it was brought back when Wright toured with
David Gilmour
on his
On An Island
tour), and an array of other instruments were added to the lineup, such as:
Fender Rhodes
,
Wurlitzer
and
Hohner
electric pianos,
VCS 3
,
Minimoog
,
ARP String Ensemble
and
Prophet 5
synthesizers. From 1987 Wright favoured
Kurzweil
digital synthesizers for reproducing his analogue synthesizer sounds, even though he still used his favourite
Hammond
C-3 organ
. The one that he used with Pink Floyd at Live 8 and with David Gilmour, however, was a "portablized" version (stripped of unnecessary weight and put into a more compact casing by Keyboard Products of Los Angeles, Ca.).
Comfortably Numb - David Gilmour and Rick Wright
Remember That Night Live At The Royal Albert Hall.
filmed over three nights, 29, 30 & 31 May, 2006,
David Gilmour talks to Neil McCormick about Pink Floyd, his new album 'Live in Gdansk' and bandmate Richard Wright, who died on 15th September 2008

"I have never played with anyone quite

like him. The blend of his and my voices

and our musical telepathy reached their

first major flowering in 1971 on 'Echoes'."

you need to see the original

cinema release of this film

to gauge the full effect. particularly

Rick Wright's amazing work on

Echoes.